Once again, here's another Filipino dessert that I always gobble up to especially during weekends. I learned to cook this from my aunt way back in my elementary days.
Palitaw is a small, flat, sweet rice cake made from malagkit (sticky rice). It is rolled into balls, flatten using the palm of your hands and dropped into boiling water. An indication that they're done is when you see them floating. When served, the flat sweet rice cake are dipped in grated coconut, and presented with a separate dip made of sugar and toasted sesame seeds.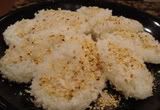 1 cup Glutinous rice flour ( Malagkit Rice )
1/2 cup of water
1/2 kilo Sugar
Fresh grated coconut
Toasted sesame seeds
Preparation:
Make dough by mixing flour and water, roll up into balls and then flatten with the palm of your hand.
Drop the balls into a saucepan full of boiling water. When the cakes are ready, they will rise to the surface. Remove the balls and let cool.
Roll the balls into mixed powdered sugar, coconut flakes, and sesame seeds.
Serve Cold.