I stumbled upon this meme from
Beauty Queen Gene Site
and I am happy to share my stuff on money matters. I believe so that being financially dependent makes us more determined to face life to the fullest. We can do what we want and at the same we can extend help to those who really need it.
The deepest part of leaving my family back home in the pursuit of giving a financially stable life for my kids is the most painful decision I ever did. I just thank God for blessing me with a good employment here in UAE to make me say that "it's worth it". Crossing borders and being away from your lovedones especially to my kids, is tough but being able to provide them with better education, good living, and happy faces everytime one or two wishes being granted.. that's more than enough to be thankful for!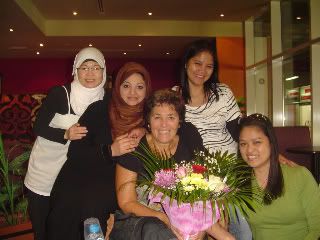 Two months back I used to ride a taxi in going to my workplace and it's draining my pocket for 14 dhs every day. When I discovered that there are new buses plying around the town, I immediately tried riding once and I save 12 dhs daily from that time on. The savings I got from transportation alone has been added to my monthly savings in a mutual fund which I look forward to when I retire in the future.
True enough, if we just know how to save we will have extra thing at the end of each month, of each year.... and it will accumulate at the point that we won't be able to notice it. It doesn't have to be very big.
When it comes to budgeting my own food too, I tried to be frugal. Before I used to splurge in buying nice and expensive foods. Instead of jasmine rice, I now cook white rice which costs me more than half of the cost of jasmine. I also found one restaurant that throws up their chicken wings, bones and skin every day. These I am collecting twice a week which gave me an opportunity to create an offline business. I now have a "chicharon" offline biz out of chicken skin.
I like the idea of finding more ways to save and be financially stable. Sometimes we just have to be creative and resourceful in doing so.... More Girls Talk soon..