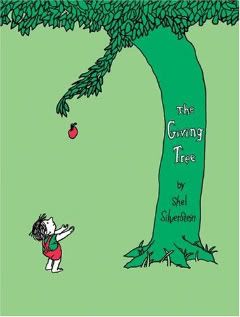 I just can't get rid of GT especially this week's theme is all about sharing books that made everyone cry. After some time of dilly dally job hunting and finally happy to get one, I now have more time to try my hand at writing and sharing my thoughts here online. Apparently, being able not read a page a day is a big "no no" for me and I know everyone just really loves to read about anything may it be a quote, a poem, etc. We simply can't missed a day without reading. There's no reason not to be happy on Girls Talk sharing completely any book that brought tears to our eyes.
The book "
The Giving Tree
" by Shel Silverstein is a very famous children's tale which I kept reading again and again when I was young and read on to my kids during bed time. Generally, this book gives a total inspiration of selflessness and enthuses a positive trait on giving. Although there are some overbearing comments from different readers being it too sappy or upsetting.
The Giving Tree
for me has lots of lesson to learn, capturing my heart as a child; even youngsters can learn from the moral lessons it impart. But the devastation on environment like cutting down of trees, can bring such great impact on human lives. But at the end of the day, one can get to think Am I generous? Am I giving?....such a great story of friendship and acceptance that truly made me cry..