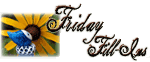 Friday Fill-Ins.... And...here we go!

1. I love to
stay tuned to my favorite classic and country songs using my Coby 4 GB Video MP3 Player with FM Radio (Red)
, while doing my bloghops.
2.
What makes me love today's atmosphere at 3K Printshop are the ever friendly customers with ready jobs a
nd a smile.
3. It's how you
deal with it; Remember that no worries, no gain. Be the best in everything you do.

4. New sticker earrings fascinate me, you would love them too...don't tell me!
5. Well, would you
like to eat dates with nuts, or candied dates or just plain dates!
.
6.
They sound like sleigh bells jingling... oh!
spring peepers.
7. And as for the weekend, tonight I'm looking forward
to cook my favorite Kare-Kare
, tomorrow my plans include
finishing my layout for Miracle Fertilizer's Tarpaulin
and Sunday, I want to
try my hand at baking my favorite chocolait moist
Wish you awesome and lovely things around....