It's the first round of sharing thoughts at
Girls Talk
this month of August.
Whew!! GT talkers would be sharing blahs about Movies.
You too can join while sharing your fave selection of movies
....to your friends
.....to your boyfriend or husband
....to your brother or sister
...and to your enemy!
The truth is I don't like much watching movies. In fact even at home when my husband played a DVD of any movie, you bet I always fall asleep, without finishing any film. huh?!?
Lately thanks goodness to the innovation, I can watch part or portion of it through online...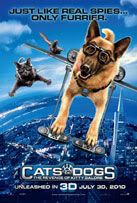 Cats and Dogs is a must-see this summer. A warner brother production yet to be released. I would definitely share this movie to my friends. An equally funky and zaniest film that even kids would love!
It's a continuing battle of cats and dogs for control of the earth. Hope they won't dominate the planet at all! hahaha.
If you have a movie of any sort that you would want us to know you can share @
Beauty Queen Gene
,the host of the show, find out some other gals who are movie fanatic reeling away this week's boredom here at GT!