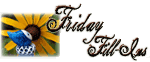 And...here we go!
1. Life is my kids whom I got all my strength in journeying far from them.
2. When everything gets tough keep going!
3. My last text message (or IM) ended in these three words: lav u au.
4. Biryani chicken rice with mixed vegetable salad is what I'm thinking about for dinner sometime soon.
5. On the 1st day of August I will start looking for another job in Dubai.
6. A videoke Thursday and Internet Chat with my kids make me lively and energetic.
7. And as for the weekend, tonight I'm looking forward to do my laundry, tomorrow my plans include finalizing my cv on customer service support and Sunday, I want to try on the new nail polish and design given by my sister from konad!