Kare-kare (oxtails with tripe) is another authentic Filipino dish full of delectable taste. I've always wanted to try my hand at preparing this dish here in UAE, but most of the times I can't find banana bud in any of the supermarkets here. So this time I just settled on having Pechay, Sitaw (string beans) and eggplants on my recipe. Before I have tried putting toasted rice (to make it sticky) but I can't seem to perfect its smooth texture. I used Mama Sita's Kare-kare mix instead which is easier to prepare by just diluting it first in a cup of water. I always adore the delectable peanut sauce with oxtail and tripe simmered slowly in tenderness. Mmmm delicioso!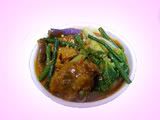 Ingredients
1 kilo beef tripe or oxtail
1 pack Mama Sita's Kare-kare Mix
1 cup peanut butter
1/2 cup cooked alamang (anchovies)
onions
garlic
4 pieces eggplant
1 banana bud
1 bundle sitaw (stringbeans)
1 bundle pechay
water, pepper and salt to taste
Directions:
In a pot, boil beef tripe or oxtail in water for an hour until tender. Strain and keep the stock aside.
In a separate wok, saute garlic, onion then add stock, beef tripe or oxtail, peanut butter and Mama Sita Kare kare mix (dissolve in a cup of water) and bring to a boil. Add salt and pepper to taste.
Add eggplant, sitaw,and pechay (and banana bud if any) and simmer for another five minutes. Make sure not to overcook the vegetables. Serve hot with bagoong alamang on the side.
Note: one thing I've learned from my husband's expertise on this dish which you can also try: separately blanch all vegetables in a pan of boiling water with maggi beef cube. Drain vegies and mix in beef and sauce mixture to ensure crispness.