Hop, hop, hop Monday.. sharing some thoughts about me, here are my answers to this week's questions on 13th edition of "Meet Me on Monday!" Let's have some fun knowing stuffs from different blogging friends here @ Java's
Never Growing Old Blogspot.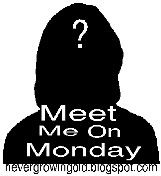 1. Do you wear socks to bed?
I do wear socks, they keep me warm and I feel relaxed wearing them. I usually have cold feet, so I can't stand the night not wearing any.
2. Do you have any pets?
As of now I don't have. When my hubby was still with me here in UAE, we used to maintain a fish aquarium with oscars and angelfishes.
3. What topping(s) do you like on your pizza?
I'd rather go for hawaiian toppings (full of pineapples!) or japanese style
pizza
with lots of cheese!
4. What time do you go to bed?
Usually 12 am, at the maximum 2 am.
5. Would you rather get free chocolate for one year or free potatoes forever?
hmmm, I can't resist giving up chocolates, lol.
What about you? Come, share your thoughts and link some love
here
every Monday!