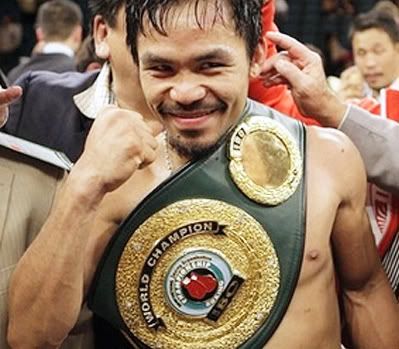 If this is true, a lot of OFW's here in UAE will be more than happy to welcome him and watch his fight.
Manny Pacquiao, the Philippines boxing legend and recently been elected as a Congressman wants to box in Abu Dhabi in November as told to one of the leading local newspapers, Gulfnews.
Noy Neri, Pacman's Assistant trainer told Gulfnews that he will stage his next fight in Abu Dhabi because of his legions of fans, though it is not yet confirmed.
The fight will be more likely between Pacquaio and Antonio Margarito (American-Mexican boxer)not Miguel Cotto but will still depend on further negotiations.
Antonio Margarito or Miguel Cotto was been chosen to be his opponent for seven-weight championship after Mayweather decline to fight with him.
Truly Pacman is an amazing legendary boxer that Philippines would be very proud of! Can't wait to see his fight here...