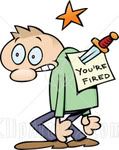 Whew!! When time strikes at the very minute, you will end up having no job to cling on to. No one knows when the right time will strike, today you will have work and maybe tomorrow you won't have any! This what has happened to me recently, our post in the government has recently been terminated, so there's no other way for me but to accept and face what lies ahead.
My company has recently terminated my contract as a learning mentor, actually five of us in the same posts. Though I still have two more years to work with them, but sad to say, to my bad luck I was part of the recession that has just plagued the entire world, I lose my job!
Do I have to panic? I just realized that those online marketing gurus are truly right in their claim, that if only we were able to stabilize any passive income offline and online, indeed there's nothing to worry about.
There's still hope in stay-at-homejobs. Internet online jobs can help ease joblessness for a while. Pretty soon enough, I'll get a job, stabilize this passive income, and eventually will replace my day job. SANA... Good thing I have a little income from the net which helped me stay on top of my monthly bills. Thank goodness to this online breakthroughs that guided me to stay abreast in this very difficult times.
Here's what I've earned so far from the internet:
1.
Adgitize
- $12
2. Freelance Writing - $45
3. Freelance Writing - $18
4. Adsense - $5
5.
EasyHits4U
- $2